About Colobus Monkeys

The name colobus comes from a Greek word that means "mutilated one." Now, that is kind of a gross description, but it is because the colobus monkey does not have thumbs, making them different from most other monkeys. They spend their time high up in trees, which makes them "arboreal." Colobus monkeys are special because they can leap very high, drop downward, and fall with stretched arms and legs, ready to catch the next branch, just like Spiderman! Their long hair around their shoulders, back, and on their tails, acts like a parachute to help them glide through the air! They can jump very far from tree to tree, so far that it would be like a human jumping 50 feet from a standing position. That's a long way!
What Do They Look Like?
The Eastern black-and-white colobus monkey is known for its cape of white hair in the shape of a "U" from the shoulders to the lower back. This is called their mantle. They also have long, white hairs around their face and on their bushy tail. The Angolan colobus has white hairs flaring out, but only at the shoulders. When colobus monkeys are first born, they are completely white! They only begin to get black fur after they're a few months old.
Where Do They Live?
Colobus monkeys are found in Kenya, Africa, where they live in forests near the coast, as well as inland in high elevation areas. The red colobus monkeys are somewhat rare, but can also be found in Africa. Another type of colobus monkey is the olive colobus, named for its color. The colobus monkey hardly ever leaves the trees. If you are ever in Kenya, look up, and maybe you will spot one!

What Do They Eat?
Since most of their time is spent up in the trees, colobus monkeys are leaf eaters. They love the taste of tender, young leaves. Their stomachs are complex enough that they can handle older leaves or plants that may be harmful to other kinds of monkeys. Some colobus monkeys eat insects found in the forest. (If you watch the video, you will learn how colubus monkeys heal themselves if they get sick.)

Groups
Colobus monkeys like to hang out with other colobus monkeys. A group of five to ten monkeys is called a troop and is usually made up of one dominant male, a lot of females, and a few younger monkeys. Every troop has its own territory to defend from other troops. The male members make roaring sounds that can be heard throughout the forest.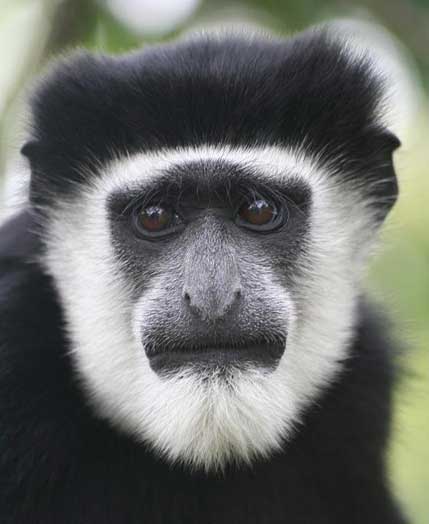 Lifespan
For animals, colobus monkeys can live quite a long time. Over 20 years in the wild and 30 years in a zoo. They tend to live longer in a zoo because there is less danger to them. That being said, colobus monkeys belong in their natural habitat, even though there are some kept in zoos for scientists to study and people to enjoy.
Conservation
Colobus monkeys are often the prey of several different kinds of animals. They tend to be hunted mostly by leopards, large eagles, and humans. Humans used to hunt these monkeys a lot for their beautiful fur and skin. Today, colobus monkeys are protected, but the excessive cutting down of forests continues to threaten their existence. Many organizations spend their time making sure that the colobus monkey will always have a place to live in the wild.