About Whales
Whales are large "marine" animals that live in the ocean. They are highly intelligent and social creatures. Whales are NOT fish; they are mammals. Fish breathe through gills, while whales breathe air into lungs just like people do. Whales breathe air in and out through blowholes.
Many mammals, like seals, polar bears, otters, and walruses, spend time in the water. Whales are the only mammals that spend their entire lives in the water and have fully adapted to life in the open sea.
Whales Are Mammals Because…
They breathe air into lungs
They are warm-blooded
They have hair
Mother whales nurse their babies with milk
They have a four-chambered heart
Whales Are BIG… Really BIG!
Whales come in all shapes and sizes. The largest type is the blue whale. In fact, the blue whale is the largest animal that has ever lived on earth. They grow to be roughly 100 feet long and weigh about 190 tons. Blue whales eat 4 tons of tiny krill every day. They do this by filter feeding through baleen (tiny brushes in their mouth). The baleen system works when a whale opens its mouth underwater and lets water pour in. The whale then pushes the water out, and animals such as krill stay trapped inside. Delicious!
Whale Groups
There are two main types of whales.
Toothed Whales
As the name suggests, toothed whales have teeth.
They also have only one blowhole on the top of their head.
Toothed whales have big brains and, other than sperm whales, are smaller than baleen whales.
Toothed whales do not have vocal chords. The sounds they make come from their blowholes.
Sperm whales, beaked whales, killer whales, and dolphins are examples of Toothed whales.
Baleen Whales
Baleen whales have baleen plates for filtering food from water, rather than teeth.
Baleen whales are larger than toothed whales.
Female baleen whales are larger than males.
Baleen whales have two blowholes.
These whales live in small groups called "pods."
Swimming and Playing
A whale tail is called a fluke. They swim by moving it up and down which propels water and pushes them forward. A whales body is long and streamlined so they can move easily through water. They typically swim between 20–30 miles per hour. Whales are often seen doing some pretty amazing things when they surface.
Spyhopping
This whale move is similar to humans treading water. Whales float with their heads bobbing out of the water. This tends to happen when a whale wants to see something out of the water like a boat.
Breaching or Lunging
This is when the whale leaps out of the water. Whales usually breach more than once in row and when they are in groups. This means they might be trying to communicate something to other whales. Whales are very social animals, so perhaps when they breach they are just playing or showing off!
Lobtailing and Slapping
This is when a whale lifts its tail out of the water and then swings it down hard to slap the surface. Some scientists believe whales do this to scare fish so that they group closer together. That way it's easier for the whale to get more fish in its mouth at once.
Logging
This is what whales do when they are resting. They float at the top of the water with their tails relaxed and hanging down.
Whale Songs
Some whales, such as the humpback and blue whales, produce melodic tones that sound like music created by humans. These sounds are known as whale songs. Male and female whales both make sounds, but only the males produce these loud, long, and complex melodies.
Scientists don't know what whale sounds mean and don't really know what whales are trying to communicate through whale songs. They have been able to point out some interesting facts however. Whale songs are often heard during mating season, which has led researchers to think that males use songs to attract females.
It is also believed that whales sing to show off. Male humpback whales sing alone or in groups. What is amazing is that when they sing in a group they will sing in tune with one another. What's even more amazing is that males that are separated over long distances can be heard singing the same melody at the same time.
Whale songs can last anywhere from 5 minutes to a half hour and sometimes repeat for days. People that have heard whale songs often describe them as haunting and beautiful.
Whales on the Move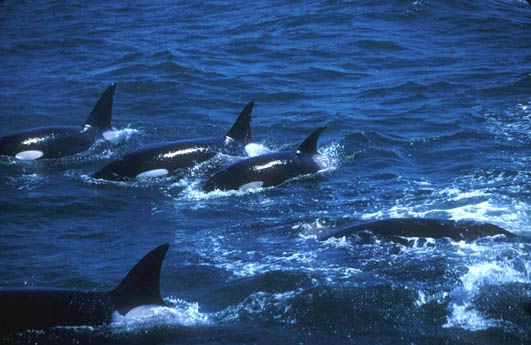 Many whales migrate long distances each year. The reasons they migrate are the weather, water temperature, changes in the amount of salt in the water, and to find more food. Whales travel to cold waters for feeding and go to warmer waters to give birth. They often travel in pods (groups).
Whale Babies
Whale babies are called calves. They are born fins first. The offspring are born during migration most of the time. When the whale calf is born, the first thing the mother does is bring it to the surface so that it can take its first breath. Often the mother will support the baby until it starts to swim on its own. When the baby whale is strong enough to swim, it will try breaching and slapping its fins on the water. Whale calves feed on their mother's milk for over a year.
The size of a whale calf depends on the species and the size of the mother. A general guideline is that the calf will be about 6% of the body weight of the mother. This can mean some of the larger offspring such as those from blue whales will be bigger at birth than other whales will be when they are fully mature.
Life Span
The life span of whales varies depending on the species. Here is a list of other whales:
The Humpback whale: 40–100 years
The Beluga whale: 40–60 years
The Blue whale: 70–90 years
The Bowhead whale: 100–200 years
The Fin whale: 60–100 years
The Gray whale: 50–70 years
The Minke whale: 30–50 years
The Narwhal whale: 40–60 years
The Sperm whale: 60–80 years